The Research Data Alliance Post-Plenary 20 Webinar
Watch the Recordings:
The RDA's Technical Advisory Board (TAB) are hosting a post-Plenary 20 webinar to share the takeaways of the breakout sessions held during the event and discuss next steps. 
The webinar aims to provide attendees a clearer understanding of the collaboration approaches among RDA groups, as well as an opportunity to hear directly from group chairs on their vision for future activities.
The webinar agenda will mirror the RDA Pathways developed by the TAB to help community members navigate Plenary sessions, RDA groups, outputs and more.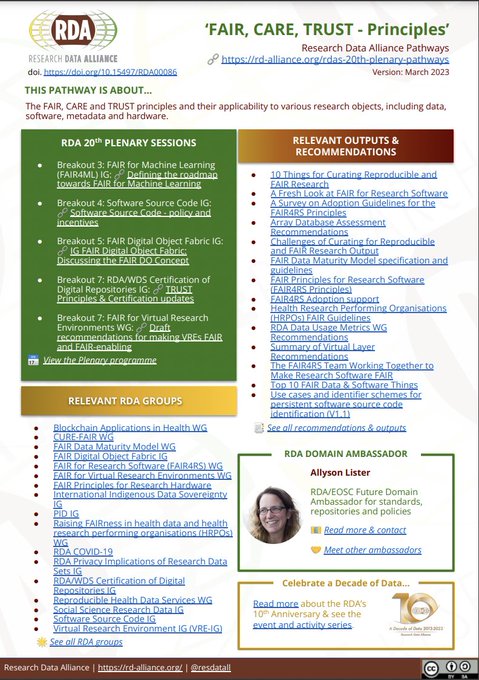 RDA Pathways: 
FAIR, CARE, TRUST
Data Infrastructures and Environment
Training, Stewardship and Data Management Planning
Semantics, Ontology, Standardisation
Data Lifecycles
Discipline Focused Data Issues
See the Research Data Alliance Pathways: RDA 20th Plenary Synopsis
Date: Thursday 20 April 2023 
Time(s): 07:30-08:30 UTC and 17:00-18:00 UTC
Two webinars will be scheduled to accommodate as many time zones as possible. Both will be recorded and made available for those unable to join. 
Registration is free and open to all. 
For more information about this event, please contact Community Development Manager, Connie Clare (connie.clare@rda-foundation.org).