Tools Available For Researchers
The Division for Research is responsible for a broad range of research activities.  Specific priorities include stimulating and supporting sponsored research, enhancing the dissemination, application and commercialization of research, and ensuring research protections.   The activities of the Research Division are designed to help facilitate the overall grant process while balancing the need for institutional and sponsor regulatory compliance.
This page is designed as a "one-stop-shop" for reference and tools, allowing researchers to locate information quickly.  Some of the tools include:
identifying opportunities
submitting proposals through Coeus, a web-based tool used for all UAlbany pre-award research activity
protecting and licensing University technologies or copyrightable intellectual property
securing institutional and regulatory approvals for proposals
completing required compliance education and training
The Internet can be a researcher's dream come true. By browsing the Internet, much as you would browse the shelves of a library, you can access information on seemingly limitless topics. In addition, web-based catalogs are available in many libraries to assist researchers in locating printed books, journals, government documents, and other materials.
Possibly the biggest obstacle facing researchers on the Internet is how to effectively and efficiently access the vast amount of information available with the simple click of the mouse. With the Internet's potential as a research tool, teachers must instruct and guide their students on manageable strategies for sorting through the abundance of information. The search for reliable resources can be both overwhelming and frustrating if students are left on their own in their initial search. A few simple guidelines can make conducting research more manageable, reliable, and fun.

The research process
Lessons and projects should be designed so that research time on the Web can be maximized in terms of efficiency. This may mean gathering necessary information beforehand, having students work in groups, or focusing on whole-class projects.
Barron and Ivers (1996) outlined the following cycle for online research projects.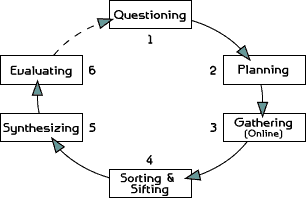 Step 1: Questioning --- Before going on the Internet, students should structure their questions.
Step 2: Planning --- Students should develop a search strategy with a list of sites to investigate.
Step 3: Gathering --- Students use the Web to collect and gather information.
Step 4: Sorting & Sifting --- Students analyze and categorize the data they gathered on the Web.
Step 5: Synthesizing --- Students integrate the information into the lesson, and draw conclusions.
Step 6: Evaluating --- Students assess the results, and if necessary, begin the process again.

I found different tools for managing scientific data, collaboration, literature search and publishing. I have also added a few myself and this became a list of tools that I personally find extremely useful and may find a place in your lab (and computer) as well.
ISIDORE a scientific search engine for A&H from France with french data but enrichments en english, french and spanish. With 3 millions of record, It's an important tool too.
sciNote: Free and easy-to-use Open source electronic laboratory notebook that manages your scientific data, enables integration of existing tools you are already using and promotes collaboration. You can take it to the lab on your tablet or smartphone.
Quartzy: free and intuitive laboratory management platform.
One Note and Evernote: these are keeping your notes digital and searchable. No need for pen and paper to keep you company at the meetings.
GenBank: indispensable Gene sequence database provided by the NIH's National Center for Biotechnology Information.
Figshare: a cloud-based platform where you can make your research publicly available and citable.
Protocols.io: helps you discover and share your protocols. What I really like is their beautiful mobile application, which you can take to your laboratory as well. Larger and very useful is also the Protocols Online database.
Mendeley: a free and very intuitive reference manager and article visualization platform.
Trello and droptask: both excellent tools for task management
ResearchGate: in my opinion absolutely the best social network for researchers.
sharelatex. This is another tool for collaborative latex editing…
Electronic lab notebook
Collaborative writing tools
Open access platforms
Support to publication
Other useful tools for researchers
Driver Restore - Easily scan and update your computer drivers in order to carry on with your research work with better productivity
WPhackedhelp - Have a wordpress website showcasing your latest researches? Never get hacked out, safeguard your website and help prevent your site from getting hacked. Clean your wordpress installation.
"Research Tools" Mind Map.
Over 700 tools that can help researchers to do their work efficiently. It is assembled as an interactive Web-based mind map, titled Research Tools, which is available online at http://www.mindmeister.com/39583892/research-tools-by-nader-ale-ebrahim. This Mind map, consists of a hierarchical set of nodes. It has four main nodes: (1) Searching the literature, (2) Writing a paper, (3) Targeting suitable journals, and (4) Enhancing visibility and impact. 
Tools to search for expertise, identify research opportunities, and facilitate collaborations. 
eagle-i allows MSU researchers to discover needed core laboratory services, reagents, animals, specimens, etc. that are available on campus and nationally.  Secondly, it allows us to expose our own resources to external researchers who need them.
fetching.io. It's a tool that can keep track of all the webpages you visit, then let's you search them later. For doing research it's a dramatically better way to capture the full text of *every* webpage you see, so you can be sure you can always re-find pages you've seen later. You don't have to remember to bookmark a site to find it later.
riffyn.com  Never miss a discovery  R&D process design and integrative data analytics
ResearchMatch is a national recruitment registry that brings together researchers and people who are interested to learn more about research studies via a secure website.  Researchers at Michigan State University and its affiliates can use this tool for feasibility assessment and recruiting
REDCap is a secure web application for building and managing online surveys and databases. BRIC adds additional custom functionality through REDCap's plugin system; for example, expanding the output of available real-time reports, and automating email activity reminders. 
The Great Lakes Research into Practice Network (GRIN) is a primary care practice-based research network (PBRN). GRIN connects practices with interesting projects and also links practicing clinicians with investigators experienced in clinical and health services research. 
CTSpedia: A Knowledge Base for Clinical and Translational Research
CTSpedia was created as a national effort to collect wisdom, tools, educational materials, and other items useful for clinical and translational researchers and to provide timely and useful advice to clinical and translational researchers with specific problems. CTSpedia is a collaborative vehicle for the CTSA's Biostatistics/Epidemiology/Research/Design (BERD) taskforce. 
DIRECT2Experts
The DIRECT2Experts network, open to all biomedical institutions. Goal of the network is to improve biomedical research and leverage our strengths as a community by creating a network that enables easy access to expertise and related resources across institutions regardless of local platforms and tools, and in collaboration with participating institutions to ensure access to approved and verified data.
BiomedExperts (BME)
BiomedExperts (BME) is a revolutionary professional networking platform that allows scientists and researchers around the world to establish new contacts, share data and collaborate in ways never before possible. Every feature and function you currently see on the site is free. 
Others;
Virtualization: heroku for science; (e.g. transcriptic, science exchange, gingko bioworks, emerald cloud lab)
MicroServices: Pluggable micro services to build support infrastructure and glue previously monolithic applications together eg. https://wiki.ucop.edu/display/Curation/Home
Data Citation: DOI for datasets ie. DataCite (https://www.datacite.org/) Already as 'identifiers' in both text, data and code. 
Linked Open Data portals: Frameworks for sharing data.  eg. CKAN http://ckan.org/
FigShare http://figshare.com/
DataDryad http://datadryad.org/   
DataVerse http://dataverse.org/,  
Zenodo https://zenodo.org/
(Also some discipline specific ones, e.g., NITRC (http://www.nitrc.org), Open fMRI (https://openfmri.org), LONI (https://ida.loni.usc.edu) )
If you had a blank cheque, which modern information technology would best support your scholarly work? What should the internet age of Academia look like? https://docs.google.com/document/d/1x2RpivCbqZh53XoTvQM6iiFs6R9qip5RLUoeB1Cwt_0/edit#heading=h.udmmx6jiqz2
Secretariat Liaison: enquiries[at]rd-alliance.org

TAB Liaison: Martina Stockhause